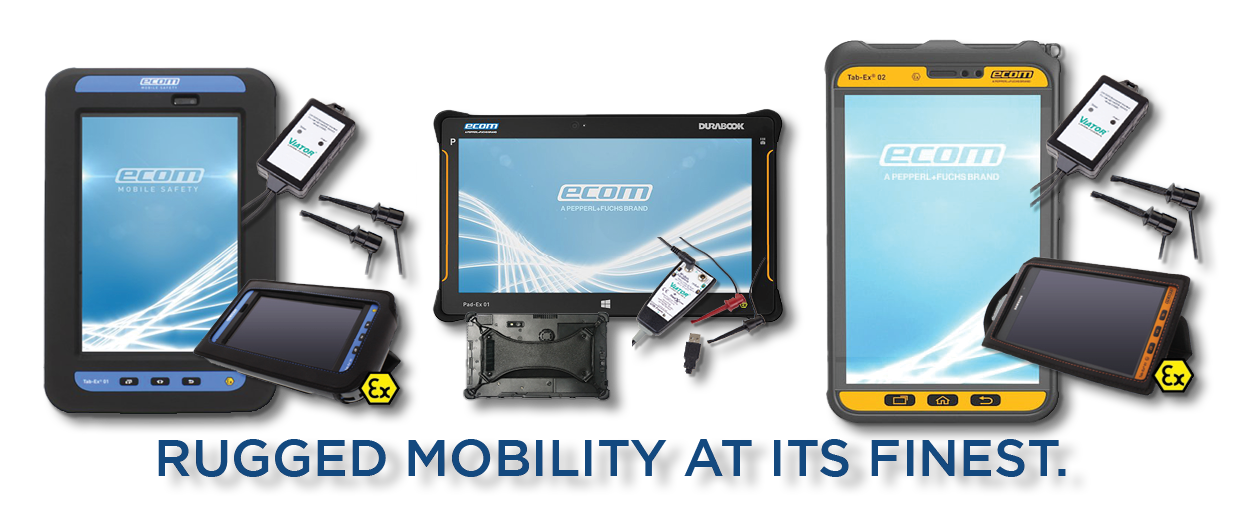 Using a Mobile Phone or Tablet in Potentially Explosive Environments
Nowadays it is hard to deny that many workers around the world have disengaged themselves from the shackles of their desktop computers and are able to use their mobile smartphone or tablet on the job.
As a study by StatCounter demonstrates, worldwide usage of the Internet is mainly based on mobile phones and tablets as opposed to desktop PCs. In addition, the push toward mobile devices will continue to increase. Many companies have already set up their data for mobile access which promises a more effective and productive work experience while on the move.
ECOM® instruments, the world's leading provider of mobile, intrinsically safe smartphones and tablets, answers this need with this comprehensive Mobile-Worker-Ecosystem and the new innovative Windows ATEX Tablet-PC, the Pad-Ex® 01.
With the Pad-Ex® 01, field workers and their operation managers can take work which is traditionally confined to their desktop into potentially explosive areas. The Tablet Pad-Ex® 01 can be used as a mobile desktop extension (or even replacement) of the desktop PC, which provides a desktop dock for quick connection to your office network, monitor, mouse and keyboard.
With its ultra-compact form factor, the Pad-Ex® 01 meets the most demanding requirements such as IP65, the 4-foot drop and vibration tests, as well as the size and weight requirements in terms of manageability and mobility. The additional screen protector offers comprehensive protection in harsh working surroundings.
In view of the increasing use and requirements of 4G / LTE connectivity in explosive environments, the Pad-Ex® 01 provides fast and seamless access to the data required for each task. For locations with or without WLAN, the Pad-Ex® 01 offers the necessary flexibility without cost-intensive expansion of the infrastructure.
Learn more about the ECOM® tablets and accessories available from BBP here.
[Via Pepperl-Fuchs]