Atomac™ AtoStar™ Lined Valves Support the Drive to Digitization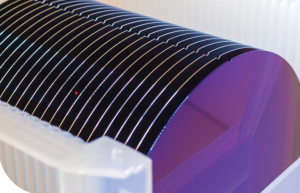 Semiconductor manufacturing is booming because
computer chips are the essential components in
integrated circuits for a new era of smart consumer
products and industrial equipment.
Everything from phones and home appliances to
electric cars depends on semiconductors. So does
the continued success of global corporations across
industries. Many organizations are optimizing operations
by connecting equipment with internet of things (IoT)
sensors and controls through digital networks to cloud-
based systems. The combined technologies monitor
processes, analyze historical and real-time data, and
predict changing conditions.
Semiconductors don't just make these digitization initiatives possible. They're what create opportunities for companies to
significantly enhance efficiency and increase productivity and profitability.
Ensuring that semiconductors function with high reliability requires a level of quality control (QC) throughout the value chain that's
unmatched in other process industries.
Semiconductors are extremely thin layers of silicone built under ultra-clean conditions. That's why the makers of semiconductors —
and the chemical companies that supply their raw materials — rely on flow control solutions that enable them to meet the highest
purity requirements.
Proven valves for advanced manufacturing
This is why successful companies count on Atomac AtoStar lined ball and check valves from Flowserve to control the flow of chemicals used to clean and etch semiconductor components. These valves also are used to manufacture and transport the chemicals used to make these components.
Atomac AtoStar valves are lined with perfluoroalkoxy (PFA) copolymer resin, which is impervious to virtually all chemicals and solvents.
With Flowserve as your partner, semiconductor manufacturers, their chemical suppliers and the original equipment manufacturers (OEMs) of chemical tanks and tank trucks can be assured that no impurities enter process fluids from the Atomac AtoStar ball valves. Likewise, the PFA coating of all the internal valve components and surfaces prevents chemical interaction that could corrode the valve body material and release contaminates from the base material into the process fluid.
And, as semiconductor companies race to expand existing plant capacity and construct new manufacturing facilities, Flowserve can help them and their chemical suppliers to complete projects on time with valve lead times that meet market expectations.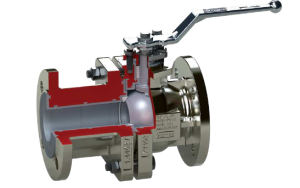 Atomac AtoStar PFA-lined stainless steel ball valves meet the purity standards required in semiconductor manufacturing, as well as the manufacturing and transportation of the chemicals used by the semiconductor industry.
The global semiconductor boom
Global semiconductor sales reached $500 billion in 2021 — a 25% increase over the previous year. That's also an industry record for total sales and units shipped. And there's more growth to come. Semiconductor sales are projected to reach $692.5 billion by 2025 and go as high as $1 trillion. That's bigger than the global fast-food industry.
Semiconductors are critical to equipment and systems that digitize processes to enhance efficiency and minimize energy consumption and costs. As companies focus on their energy transition initiatives to switch to cleaner and renewable power sources and shrink their carbon footprints, they will continue to drive demand for faster and more capable semiconductors.
Driving semiconductor growth: Adoption of smart devices
Semiconductors are highly valued, so manufacturing facilities must be built quickly along with
the chemical supply chain to support them.
Gartner estimates that chip industry optimism drove record levels of capital expenditures of
at least $146 billion in 2021. That's more than double the industry spending five years prior.
Capital investment from the three largest semiconductor manufacturers will exceed $200 billion
from 2021 to 2023;
governments have committed hundreds of billions of dollars more.
Chipmakers substantially ramped up production to meet high demand for consumer
products. Adoption of 5G smartphone and IoT devices capable of connecting to the fastest
networks available is a major driver of semiconductor demand. So is the continued strength
of the worldwide personal computer market and the rapid shift of business computing to
cloud services housed in large-scale data centers.
New demand also comes from the automotive sector in addition to the influx of IoT devices
for businesses and industries.
Some of the new semiconductor plants will be located in traditional manufacturing clusters
in Asia and the Pacific region. However, they more often than not will be built in the United
States, Israel and Europe — a deliberate localization effort to increase chip production closer
to the next step in the supply chain.
vi
For example, the CHIPS for America Act for fiscal year
2021 authorized $52 billion to support the expansion of semiconductor manufacturing in the
United States.
Flow control for semiconductor processes
Semiconductors are created by fabricating thin, round
silicon wafers 154 to 305 mm (6 to 12 in.) in diameter.
Finished wafers are about 15 mil (0.012 in.) thick. The latest
advanced processes at the core of nanometer semiconductor
manufacturing are ideal applications for our Atomac lined ball
and check valves:
Cleaning –

Isopropyl alcohol (IPA) is commonly used in a

variety of cleaning processes, including drying. Hydrogen

peroxide (H

2

O

2

) plus hydrochloric acid (HCL) or sulfuric acid

(H

2

SO

4

) are used for metal cleaning after various fabrication

steps to remove leftover particles and trace contaminates that

can interfere with the electrical circuits.

Etching –

Hydrofluoric (HF) acid and phosphoric acid (H

3

PO

4

)

are used for etching oxide and nitride silicon.

Transportation and storage –

All of these liquid chemicals are

shipped from suppliers to semiconductor fabrication facilities

in tank trucks; they're then unloaded and stored in on-site

tanks until needed.
Ultra-pure standards compliance
Strict quality standards for semiconductors limit manufacturing contaminates; allowable amounts are so small that they're measured in parts per billion or parts per trillion. If the acids and solvents fail to meet requirements, the chip manufacturers' production volumes can be significantly reduced and costs can escalate. Chips can fail to meet performance requirements, too.
Enabling the semiconductor companies and their chemical suppliers to meet the standards calls for inner components and surfaces of Flowserve Atomac AtoStar valves to be absolutely smooth, without any scratches or impurities, in order to prevent contaminants from entering the process chemicals
Chemically inert lining
Flowserve Atomac AtoStar lined valves have supported the process industry for decades. Each Atomac AtoStar valve from Flowserve is lined with PFA resin, which neither reacts with the process chemicals nor allows the chemicals to interact with the metallic construction materials. PFA withstands high temperatures, and its frictionless qualities enable improved flow. This design meets the following unique requirements for semiconductor manufacturing processes, which typically are conducted in clean rooms:
No lining burrs on the flow path
No unevenness on the sealing surface
No contamination or discoloration
No cleaning or assembly of the valve with oil or grease
Atomic AtoStar lined ball valves
Atomac AtoStar lined ball valves are ideal for the highly corrosive,
ultra-pure conditions required for semiconductor fabrication as
well as the manufacturing of chemicals used therein. Models:
AS1

DIN face-to-face and flanges
Two-piece, full-port design
ANSI B16:5

AS2

ANSI long face-to-face and flanges
Two-piece, full-port design
ANSI B16:5

AS3

ANSI short face-to-face and flanges
Two-piece, reduced-port design
ANSI B16:10

AS4

ANSI short face-to-face and JIS flanges

AS5

Japanese face-to-face and JIS flanges
Leveraging an expert partner to make your world better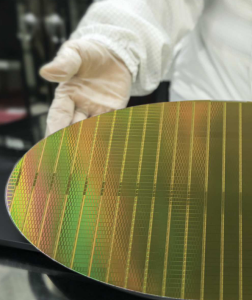 Semiconductors are the building blocks for today's popular consumer electronics devices. But they also form the foundation upon which companies are building the advanced systems they need to successfully complete their energy transition and digital transformation initiatives.
Flowserve is the ideal partner to help your organization maximize energy efficiency and minimize or eliminate greenhouse gas emissions that contribute to climate change. We also are uniquely capable of enabling your semiconductor manufacturing company and chemical supply company to keep ahead of the ever-increasing chip demand.
And, as more products and systems are digitized, Flowserve can provide the right flow control equipment to meet your timelines for projects to expand existing semiconductor fabrication plants or construct new chip foundries.
Throughout our history of more than 220 years, Flowserve has leveraged unmatched flow control expertise and global resources to support customers across industries during periods of significant change and growth. Today, we are decarbonizing, digitizing and diversifying our own operations and products to make the world better for everyone.
And, for semiconductor companies and their chemical suppliers, that means we're ready with extraordinary solutions that can make your world better, too