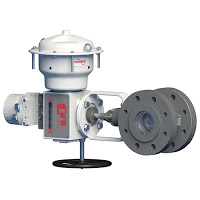 Product Spotlight: Flowserve Valtek MaxFlo 4
BBP partners closely with Flowserve, one of the world's leading providers of control valves, and together our product experts work with customers to provide solutions for challenging industrial applications. In this product spotlight, we will take a closer look at the features and potential applications of the Flowserve Valtek MaxFlo 4.
The Flowserve Valtek MaxFlo 4 control valve is a high-performance eccentric rotary plug valve designed for the process industry. It features a large capacity, standard hardened trim, and superior shaft blow-out protection.
This valve is available in sizes 1 through 12 inches, ASME Class 150, 300 and 600 as well as DIN PN 10, PN16, PN 25, PN40 and PN63. An optional ISA 75.08.01 or DIN EN 558 series 1 long-pattern body makes this valve an easy drop-in replacement for a globe control valve.
FEATURES & BENEFITS
Unobstructed flow-path provides 70% greater flow capacity for a given valve size
Shaft is designed to safety requirements of ASME B16.34 to prevent the stem from being removed while the valve is under pressure for increased safety
Polygon connection between the shaft and plug provides precise control and substantially longer service life
Highest Rated Cv
Precise Control
Reliable Shut-off
Most Current Safety Standards
Fugitive Emissions Elimination
Integral Noise Reduction Plates
Learn more about products from Flowserve available from BBP.