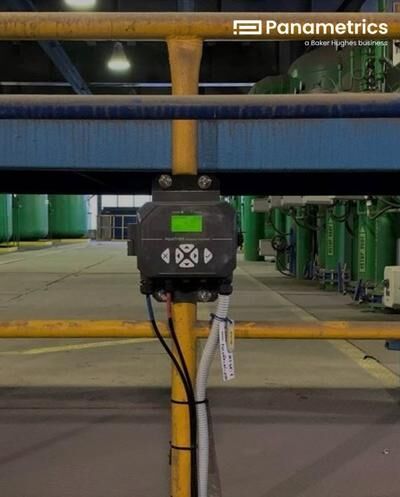 Panametrics Ultrasonic Clamp-On Flow Meters
Panametrics, a Baker Hughes business, offers a comprehensive clamp-on portfolio consisting of AquaTrans, DigitalFlow, and PanaFlow models.
Ultrasonic clamp-on flow meters measure fluid flow in main applications. By using sound waves to determine the transit time of a gas or liquid, ultrasonic flow meters can accurately monitor any changes in flow, both upstream and downstream. Versus traditional vortex flowmeters, ultrasonic flow meters offer additional benefits such as no moving parts, thus reducing failure occurrences and extending the life of the flow meter, plus the ability to simply clamp the flow meter to the side of a pipe, so there is no need to shut down production, install an inline meter, calibrate it, and restart. With our ultrasonic clamp-on flow meters you can choose where to measure, without having to disrupt production at all.
Easy to install without process shutdown, these meters are accurate and versatile for a variety of industries, fluids, and pipe thicknesses. Whether chain, wire rope, Velcro® strap, or a magnetic, bolt-on, or weldable steel yoke with metal band, our clamp-on meters make installation and removal a breeze, enabling your team to work more efficiently, and spot check flow at virtually any section of pipeline.
Ultrasonic clamp-on meters serve a variety of flow measurement applications for industries such as municipal for water, wastewater, potable, and sewage; district energy, condensate, and chilled water; and processing applications such as oil and gas, hydrocarbon, chemical, food & beverage, and pharmaceutical industries. The meters maintain a reading of 1 to 2% and are contamination-free.