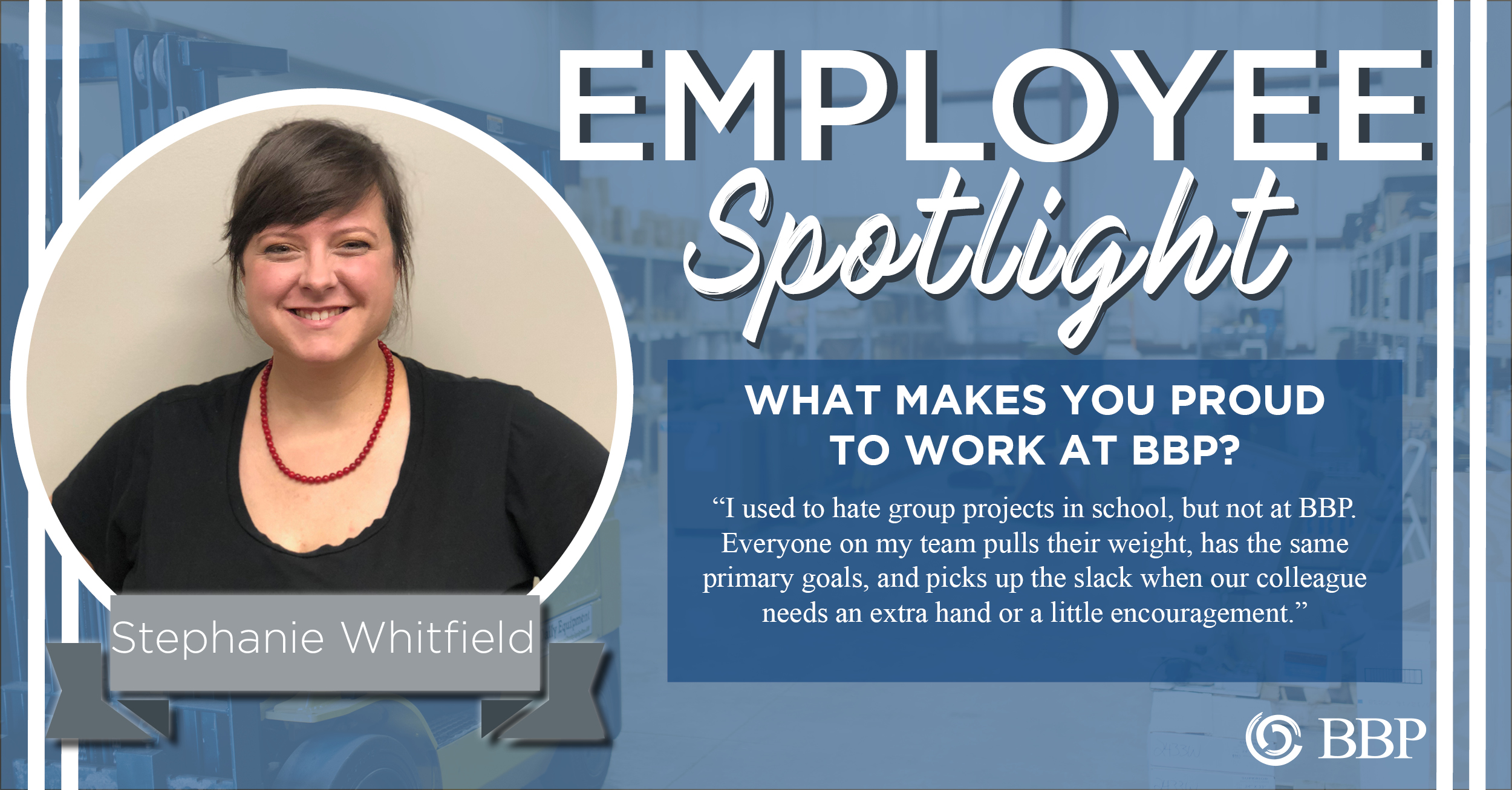 Employee Spotlight: Stephanie Whitfield
We're engineers, customer service representatives, accounting gurus, tech support superheroes, and more — but we're also real humans. In our blog series, "Employee Spotlight", you'll meet BBP employees, learn about their background and roles, and discover what they like most about working at BBP. This week the spotlight is on Stephanie Whitfield, an Inside Sales Representative in Baton Rouge. Throughout her time with BBP, Stephanie has become an essential member to the Sensors department while providing superior technical support to her customers and the outside sales team. She continually goes beyond the call of duty to create solutions for her customers and assist her coworkers. We couldn't live without her or her amazing breakfast recipes. Thanks for everything you do, Stephanie! Keep up the great work!
Name:  Stephanie Whitfield
Title: Inside Sales Representative
City of Residence: Baton Rouge, LA
Hometown:  Moss Bluff, LA
What is your role at BBP? To make it as easy as possible for our outside sales force to meet customer needs and expectations, and to be that friendly voice on the phone that gives the customer confidence that we can get the job done.
What do you enjoy most about your role:  Those moments when I'm able to use my experience and resources to make life easier for someone else. There's something so satisfying about turning a frustrated customer into a happy one!
What makes you proud to work at BBP: I used to hate group projects in school, but not at BBP. Everyone on my team pulls their weight, has the same primary goals, and picks up the slack when our colleague needs an extra hand or a little encouragement.
What are 3 words to describe BBP? I would have to say: Consistency, Quality, and Respect. That is what stands out in my experience.
Describe yourself in 3 words? Enthusiastic, Earnest, Learning
 What is something that most people do not know about you? I can play the piano. I was teaching piano lessons before I came to work at BBP!
If I could do it all over again, I would: Travel more! And marry Kenneth sooner!
Which four individuals, living or dead, would you like to eat dinner with the most? Jesus Christ, Abigail Adams, Russell Moore, and my Uncle Tony
If your life had a theme song, what would it be? Jason Isbell's "If It Takes A Lifetime", but if you ask me next week the answer may change!
What type of music do you listen to? That would be impossible for me to pin down… to me, there's a lot of beauty and value in most genres of music. But my favorite kind to perform is Americana/folk, singer-songwriter kind of stuff.
Travel goals? I have friends that have migrated all over the world, and I would love to go visit them and see their home through their eyes.
What advice do you have for prospective BBP employees?  Work hard, play hard! (but not too hard… ?)