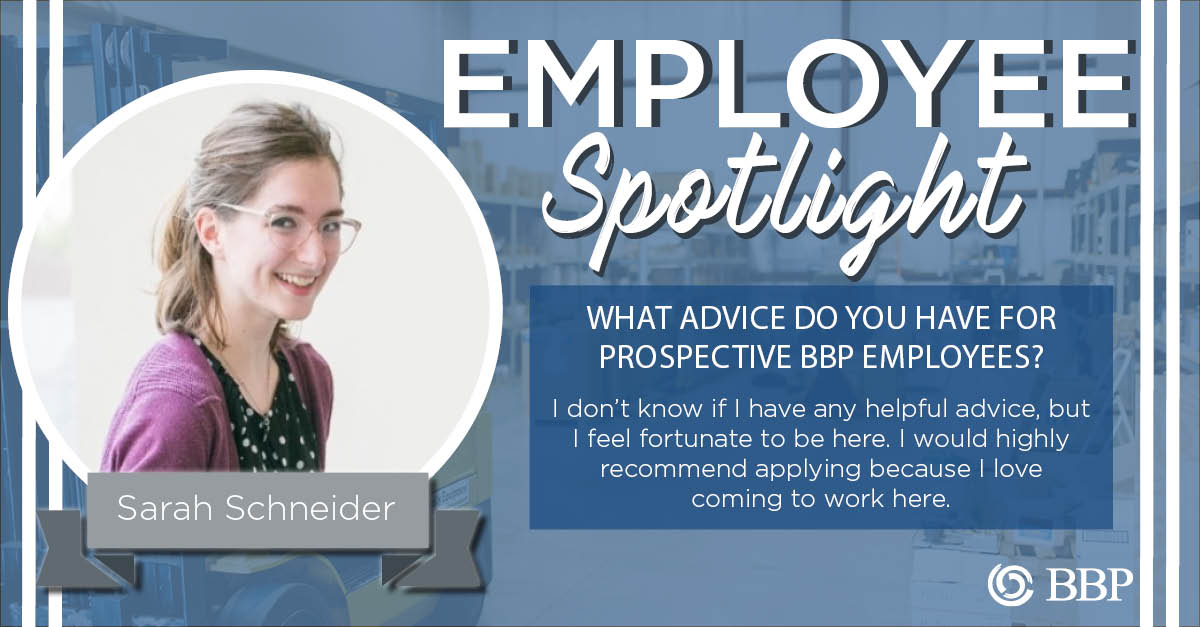 Employee Spotlight: Sarah Schneider
We're engineers, customer service representatives, accounting gurus, tech support superheroes, and more — but we're also real humans. In our new blog series, "Employee Spotlight," you'll meet BBP employees, learn about their background and roles, and discover what they like most about working at BBP. This month, the spotlight is on Sarah Schneider, a Data Science Intern in Baton Rouge. She is our resident data guru, problem-solver, and Excel wiz. Her willingness to learn and constantly expand on her skill set make her an excellent addition to our team. Keep up the great work, Sarah!
Name: Sarah Schneider
Title: Data Science Intern
City of Residence: Baton Rouge
Hometown: Orange, California
Family Status: My family lives in Florida, but I'm here for school! (Geaux Tigers!)
What is your role at BBP? I'm a data science intern, which means I work with data on a variety of different projects. Through my work, I build dashboards and other tools to help improve workflows and answer questions about operations through data.
How long have you been in the industry? In Analytics, I'm just making a year in August. In industry, I've been with BBP for six months!
What do you enjoy most about your role? I enjoy being able to solve problems and answer questions. It's satisfying to be able to build something and have an immediate impact on others.
What makes you proud to work at BBP? I love the culture and community of BBP. While I've interned in many offices, it is the people that really make or break the experience.
What are three words to describe BBP? Innovative, good people, and friendly
What is something that most people do not know about you? I love to cook! My chicken parmesan will knock your socks off.
What is your favorite quote? "If you think you can do a thing or think you can't do a thing, you're right." -Henry Ford
Motto or Personal Mantra: It is through iteration that we can find perfection.
If I could do it all over again, I would: I would have learned to program a lot earlier! I was an English major before Data Science, and the transition was a steep learning curve.
Which four individuals, living or dead, would you like to eat dinner with the most? Grace Hopper, Henry Ford, Andrew Ng, Gordon Ramsey
If your life had a theme song, what would it be? Singing in the Rain (It rains a lot in Baton Rouge!!)
What type of music do you listen to? I listen to a lot of the old jazz my dad handed down to me, like Dave Brubeck, Herbie Hancock, and Billie Holiday.
What advice do you have for prospective BBP employees? I don't know if I have any helpful advice, but I feel fortunate to be here, I would highly recommend applying because I love coming to work here.