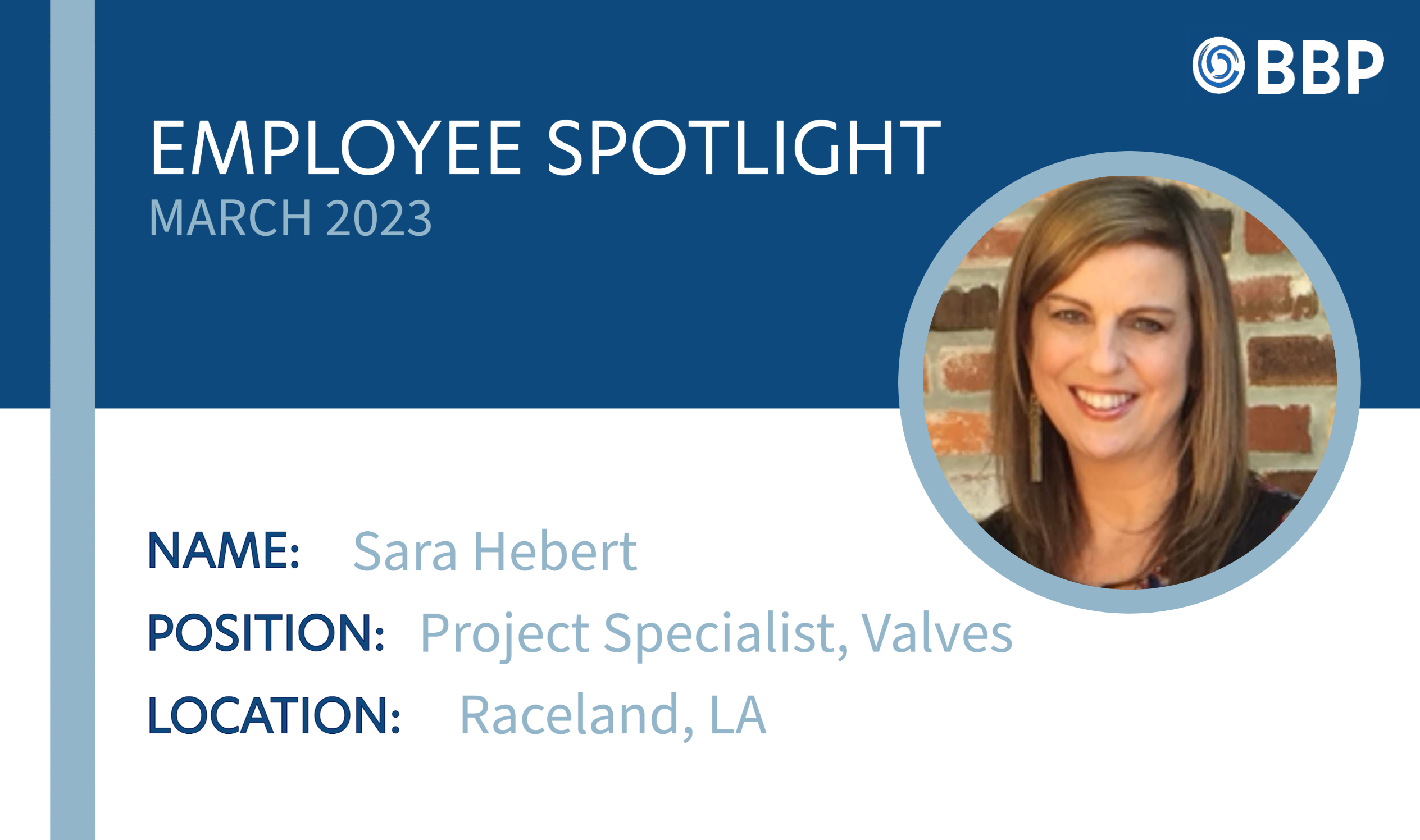 Employee Spotlight: Sara Hebert
We're engineers, customer service representatives, accounting gurus, tech support superheroes, and more — but we're also real humans. In our new blog series, "Employee Spotlight", you'll meet BBP employees, learn about their background and roles, and discover what they like most about working at BBP.                                                                                                                                           
Name: Sara Hebert
Title: Project Specialist, Valves
City of Residence: Raceland, LA
Hometown: Rosedale, LA
Family Status: Married, Mom and Jean-Jean (Grandmother)
What is your role at BBP? I work in the valve group of BBP and handle valve projects.
How long have you been in the industry? 34 Years
What do you enjoy most about your role? The challenge of submitting a competitive and comprehensive quote and getting an order!
What makes you proud to work at BBP? BBP is a well-respected and growing company in the industry with a passion to satisfy the customer's need as well as taking great care of their employees!
What are 3 words to describe BBP? Great people & company!
What is something that most people do not know about you? I love sayings/quotes, but I can mess them up in a heartbeat!
What is your favorite quote? "Walk a Mile in Someone Else's Shoes"
Motto or Personal Mantra: "If there is a Will, there is a Way"
If I could do it all over again, I would: I would keep it as it is! No reason to look back!
Which four individuals, living or dead, would you like to eat dinner with the most? Miss my Mom & Dad dearly so without a doubt my 1st choices! I love family & history so maybe one of my grandparents and one of my great-grandparents to learn about them and the times of the world when they were living.
Well what type of music do you listen to? Love and listen to it all!
What advice do you have for prospective BBP employees? Never be afraid to reach out and ask questions. It's not a sign of weakness but a reflection that you want to learn and how you learn.