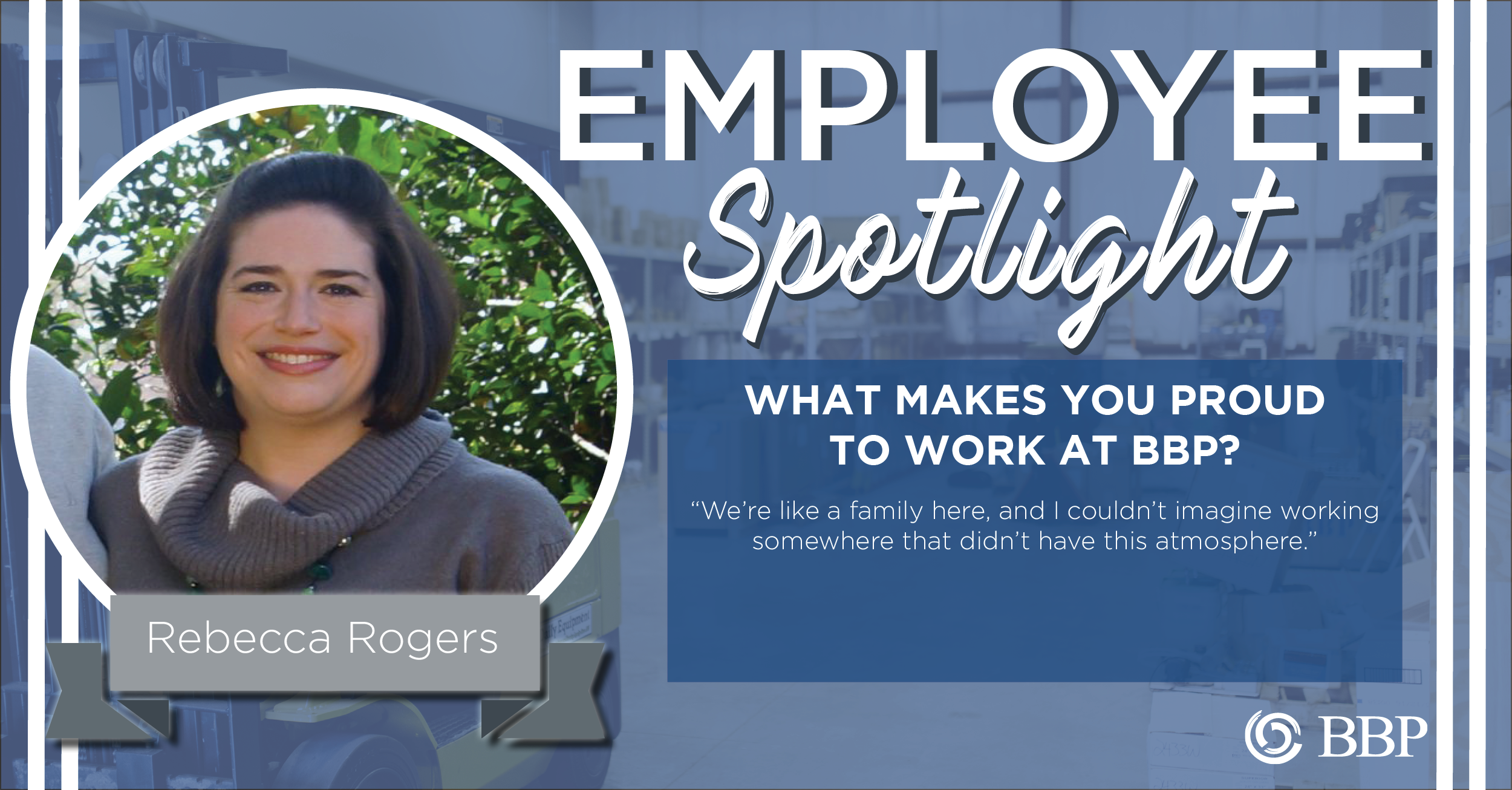 Employee Spotlight: Rebecca Rogers
We're engineers, customer service representatives, accounting gurus, tech support superheroes, and more — but we're also real humans. In our new blog series, "Employee Spotlight," you'll meet BBP employees, learn about their background and roles, and discover what they like most about working at BBP. This week, the spotlight is on Rebecca Rogers, an accounting specialist in Baton Rouge. Known for her infectious laughter and energetic personality, Rebecca has become a vital member of the BBP team over the past 13 years. Thanks for all you do Rebecca!
Name: Rebecca Rogers
Title: Accounting
City of Residence: Baton Rouge
Hometown: Baton Rouge
Family Status: Married with one daughter and a baby on the way.
What is your role at BBP? I work mainly with commission applications, payments, and new customer setup as well as processing miscellaneous requests from our inside and outside sales teams.
How long have you been in the industry? I've been with BBP for 13 years.
What do you enjoy most about your role? Even though I have a defined role, every day brings me new challenges.
What makes you proud to work at BBP? We're like a family here, and I couldn't imagine working somewhere that didn't have this atmosphere.
What are 3 words to describe BBP? Family, Food, Fun
What is something that most people do not know about you? There's not a lot that people don't know since I'm quite a talker! I am a huge dog lover. I have an Old English Sheepdog named Penny, and I am a little obsessed. I would happily pet every dog that I saw if I could!
What is your favorite quote? "[And so] I think there are some things I do not wish to be. And that is why I think that I just wish to be like me." Dr. Seuss
Motto or Personal Mantra: Work hard, play hard!
If I could do it all over again, I would: I would have continued playing music.
Which four individuals, living or dead, would you like to eat dinner with the most? My grandparents.
If your life had a theme song, what would it be? If there is a song out there about being a "hot mess," that would be my life.
What type of music do you listen to? Mainly rock & alternative
What advice do you have for prospective BBP employees? Coming in with a good attitude is everything! Be prepared to work hard, but also have fun.