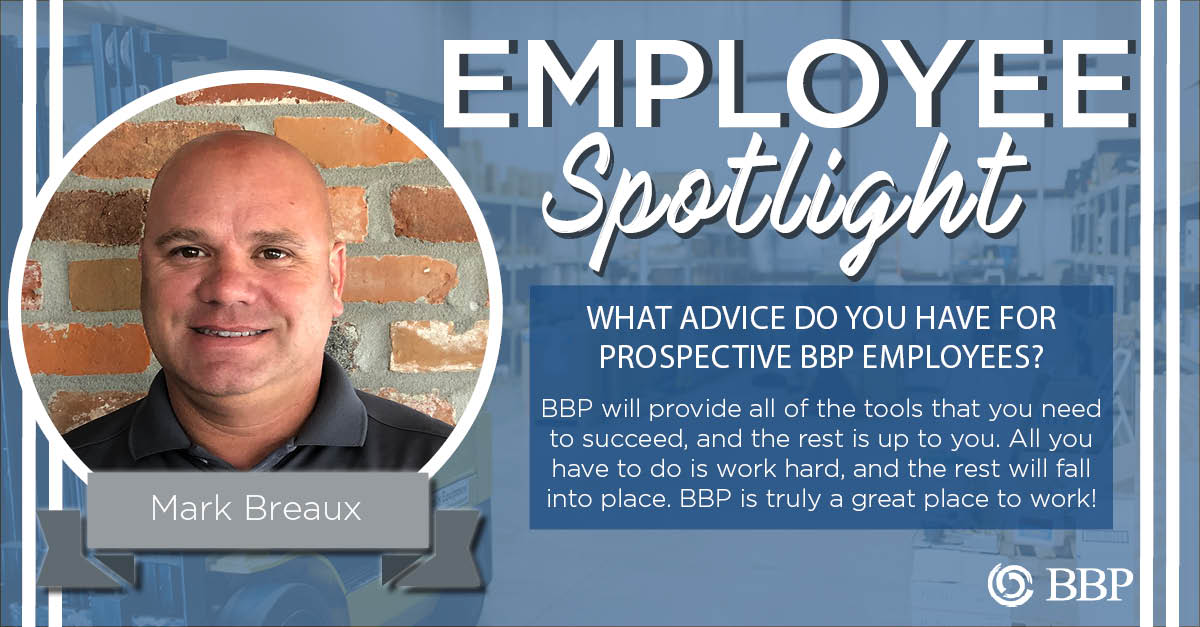 Employee Spotlight: Mark Breaux
We're engineers, customer service representatives, accounting gurus, tech support superheroes, and more — but we're also real humans. In our new blog series, "Employee Spotlight," you'll meet BBP employees, learn about their background and roles, and discover what they like most about working at BBP. This week, the spotlight is on Mark Breaux, an account manager in Louisiana. Using his vast product knowledge and industry experience, Mark is always willing to go above and beyond for our customers. Thanks for all you do, Mark! Keep up the great work.
Name: Mark Breaux
Title: Account Manager
City of Residence: Belle Rose
Hometown: Belle Rose
Family Status: Married with 2 Teenage Sons
What is your role at BBP? Outside Sales
How long have you been in the industry? 25 years
What do you enjoy most about your role? Helping customers when they need help the most.
What makes you proud to work at BBP? We strive to do it best, always!
What are 3 words to describe BBP? Family, Trust, Relationships
What is something that most people do not know about you? I love to cook. I also love to eat!
What is your favorite quote? "You only live once, but if you do it right, once is enough."
Motto or Personal Mantra: Expect nothing and appreciate everything.
If I could do it all over again, I would: Not change a thing!
Which four individuals, living or dead, would you like to eat dinner with the most? My Grandparents and Jesus Christ
If your life had a theme song, what would it be? Live Like You Were Dying by Tim McGraw
What type of music do you listen to? Mostly Country but I listen to just about all kinds of music.
What advice do you have for prospective BBP employees? BBP will provide all of the tools that you need to succeed, and the rest is up to you. All you have to do is work hard, and the rest will fall into place. BBP is truly a great place to work!