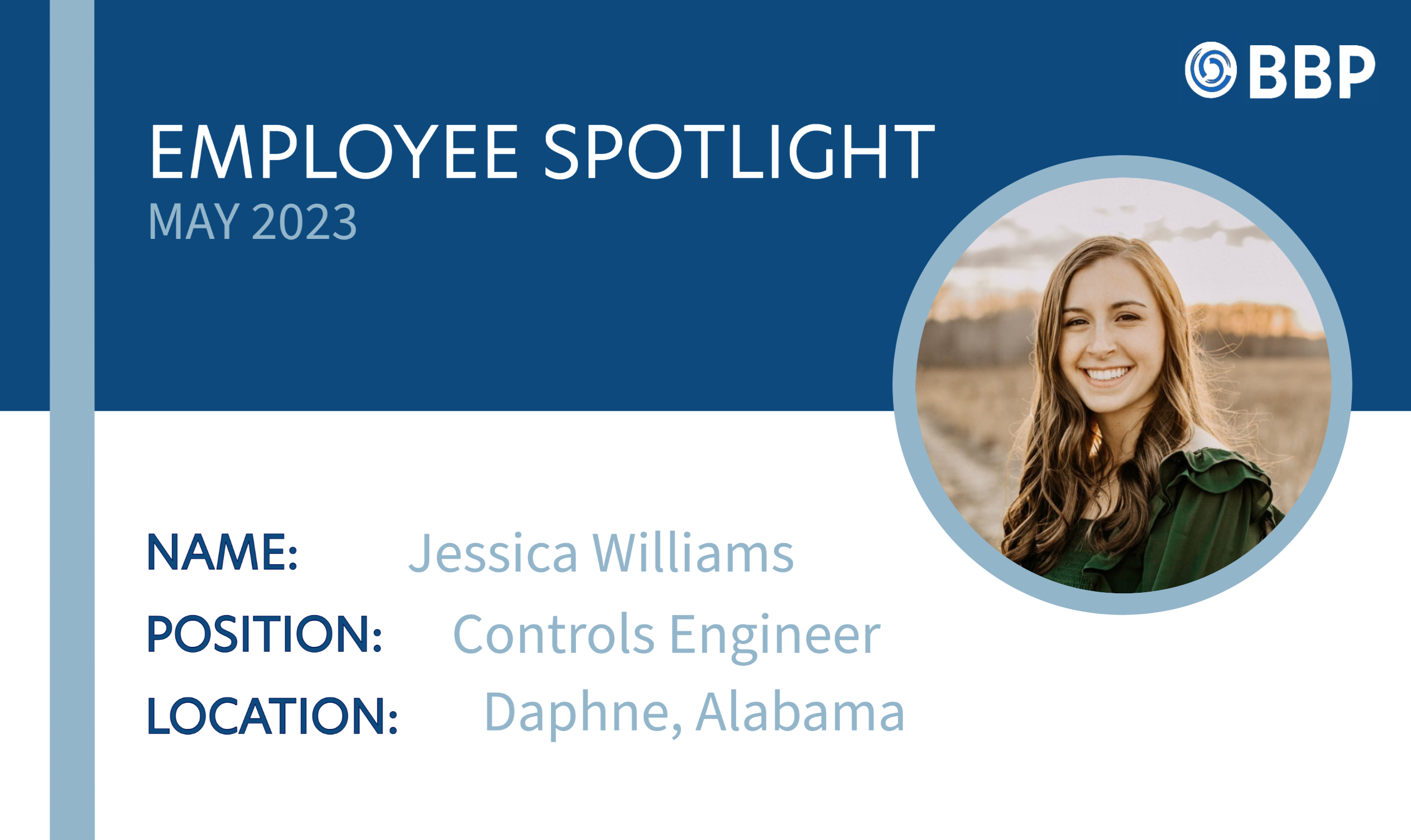 Employee Spotlight: Jessica Williams
We're engineers, customer service representatives, accounting gurus, tech support superheroes, and more — but we're also real humans. In our new blog series, "Employee Spotlight", you'll meet BBP employees, learn about their background and roles, and discover what they like most about working at BBP.                                                                                                                                           
Name:  Jessica Williams
Title: Controls Engineer
City of Residence: Daphne, Alabama
Hometown: Westfield, Indiana
Family Status: Married
What is your role at BBP? I program and design customer interfaces for the IIOT and DCS Teams. I also do student recruiting and lead the process automation co-op program.
How long have you been in the industry? 2 years (1 as a BBP intern and 1 full-time).
What do you enjoy most about your role? I love interacting with customers and delivering a solution they're impressed with.
What makes you proud to work at BBP? The genuine care for employees and desire to see them succeed, along with the same sincerity towards customers.
What are 3 words to describe BBP? Caring, fast-paced, focused
What is something that most people do not know about you? I love calligraphy!
What is your favorite quote?  "It's one thing to be grateful. It's another to give thanks. Gratitude is what you feel. Thanksgiving is what you do." – Tim Keller
Motto or Personal Mantra: Be where your feet are.
If I could do it all over again, I would: I'd look into controls engineering sooner in college!
Which four individuals, living or dead, would you like to eat dinner with the most? Jesus, The Apostle John, Charles Spurgeon, and my grandfather.
If your life had a theme song, what would it be? Best Day of My Life
Well what type of music do you listen to? Country
What advice do you have for prospective BBP employees? Branch out and try new things! A variety of skills come in handy at BBP.