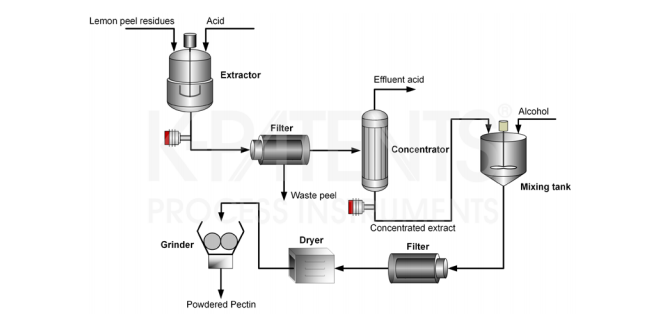 Food & Beverage Industry Solutions from K-Patents Process Instruments
In the Food & Beverage industry, K-Patents sanitary refractometers enable accurate in-line Brix and concentration measurements in dairy, liquid food, and beverage applications. These EHEDG certified refractometers are ideal for hygienic processing, where in-line monitoring and control can help to improve product quality and reduce costs. K-Patents process instruments are used in a variety of applications within the food and beverage industry, including coffee and tea production, fruits and vegetable processing, soft drink production, beer brewing processes, sweets processing and more. To learn more about real-world examples of K-Patent products in the food and beverage industry, visit their application note library here. Today, we're going to focus on two new application notes from K-Patents, "Pectin Extraction and Evaporation" and "Margarine and Spreads Production."
Pectin Extraction and Evaporation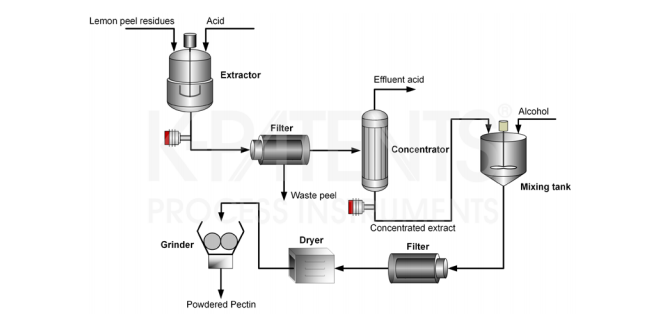 The K-Patents Sanitary Process Refractometer PR43-A is used to measure continuously the concentration of the liquid pectin extract to ensure optimum control and the highest product quality. The refractometer can be installed directly in the reaction vessel or at the outlet pipe to provide real-time information on the amount of extracted pectin, thus eliminating the need for time-consuming sampling and laboratory tests. The measurement by the refractometer is not influenced by suspended solids or bubbles in the slurry and is selective to the liquid phase. The continuous measurement by the refractometer helps to determine the efficiency of the extraction process and to adjust the process parameters to ensure a liquid phase from the reactor with the highest possible pectin concentration. A refractometer after the concentration step monitors that the target concentration of pectin extract is constantly achieved. The refractometer's output signal can be used for automated control of the concentration step, and consequently for optimizing energy consumption and alcohol usage in the following precipitation step. The K-Patents PR-43-A refractometer complies with the highest standards for safe food and beverage processing. The refractometer is also available with 3- A and EHEDG certifications.
Margarine and Spreads Production
The K-Patents Sanitary Refractometer PR-43-AP-T is installed directly in the fat phase tank through an APV Tank Bottom Flange. The refractometer measures accurately and continuously the refractive index of the blend during the preparation of the fat phase to determine the correct fat and oil proportion. This is an important measurement before continuing to emulsification. The in-line measurement by the refractometer provides real-time QA monitoring of the blend and eliminates the need for sampling and laboratory tests, thus increasing productivity and reducing batch time. In addition, the real-time measurement by the K-Patents refractometer provides instant information for ingredients dosing, and helps to produce margarine with the desired characteristics, functionalities and consistent quality.